Moby in the Blogs
MOBY press | Award-Winning Baby Carrier | Blog Reviews | MOBY Celebrities
Budgeting time and money for creating a happy and healthy family environment is serious business, we know that. Here are real life parents sharing their experience with Moby, take some time and read through. While we have provided these families with baby carriers, we do not pay for the review results
Family Living on a Budget
6/17/14 - "I prefer the Moby when the babies are little, it keeps them close and has a few different wrap options. You can also nurse privately while walking through a store if needed. I prefer to nurse in a private setting, but I had a few situations when Wyatt was a baby, that I was glad I had looked up instructions for doing so."
familylivingonabudget.blogspot.com
---
My Chocolate Moments
5/17/14 - "When he was first born Hudson did not like to be set down. Ever. Wearing him was the only way I got to eat somedays. It also freed up both of my hands. I wasn't able to do anything big like major house cleaning, but he could sleep all snuggled up next to me and I was able to have both of my hands to type on the computer or read a book or something."
mychocolatemoments.com
---
Wildflower Ramblings
5/14/14 - "I wrapped my son (in both black and green Mobys, to go with different outfits, of course) immediately, and so did my husband! My absolute joy was to have him close to my heart in those early days."
wildflowerramblings.com
---
BEFORE, DURING, AND AFTER
5/14/14 - "My review of the Moby wrap is that it's awesome. Just like with the woven wrap, there is definitely a learning curve. The Moby is a long piece of stretchy fabric, but once you learn how to wrap it around your body, it's a cinch! Here is a video I recorded a long time ago, when Alexander was just a few months old. It's a Moby wrap tutorial."
beforeduringandafterblog.com
---
Hugs, and kisses, and fairy tale wishes..
4/23/14 - "...a moby wrap is so much love and snuggles for that newborn stage, and "oh so soft". Since their original wraps moby has extended their line to SSC's (soft structured carriers) which I'll mention again further down."
hugskissesfairytalewishes.blogspot.com
---
Bloomington Area Birth Services
4/21/14 - "I've very comfortably worn a toddler in a Moby using this method of wrapping, so anyone who says they couldn't use their Moby after the first three months probably hasn't practiced the amazing and fabulous Kangaroo Hold!"
bloomingtonbirth.org
---
Jynuine Mothering
4/16/14 - "One of my favorite ways to carry baby is through the Moby Wrap! I own one, as well as many others I have made, and I made a how-to video a bit ago for those of you confused how to actually use one!"
jynuine.com
---
The Casey Chronicle
4/9/14 - "AND I have to admit, I am in love with my Moby wrap. It's much easier to manage than I had originally thought it would be. Plus, Casey falls asleep practically the minute he is in it. I love that he is right against my chest and I feel like he is completely supported, both his body and his head and neck. Besides, how could I ever complain about looking down at that little face and being able to kiss his cheek whenever I want?!?"
thecaseychronicle.wordpress.com
---
The Mommy Bunch
1/26/14 - "I'll be the first to admit, I never 'wore' my first two kids. I did have a baby carrier for my first child but we rarely used it (just a few outings when he was teeny tiny), and for my second child I was given a sling baby carrier but felt so uncomfortable having baby in it I ended up holding her the whole time (good thing too as it ended up being recalled after several infants died from using it – momtuition!).
What about a baby wrap?
Wraps were a whole different story. I was a little intimidated by all that fabric and really didn't think I would be able to successfully use a wrap. I'm glad I decided to give it a try this time around!"
mommybunch.com
---
Baby Elan
10/11/13 - "My favorite go-to carriers are soft-structureds. Don't get me wrong, I love my other carriers and wraps and they all have their special uses, but if I had to choose, it would be a soft-structured carrier. I feel that soft-structured carriers are the best for hiking, for extended periods of babywearing, and especially if it's hot out. Wraps for us can get very hot since little man is so warm natured.
I've tried several soft-structured carriers, and I absolutely love the Moby Go's design. It has wide shoulder straps in a cross-shoulder design that provides amazing support by evenly distributing the baby's weight."
babyelandaily.com/
---
Mamma in Flip Flops
9/30/13 - "Last week I mentioned that one of my top baby essentials I would add to a baby registry would be a Moby wrap. Having four children, I know what I could live and live without and that is an absolute essential for me. I am a babywearing maniac and whether I'm getting groceries, hanging out at the hockey court, doing dishes or cleaning the house my babies have always been worn. From infancy through six months the wraps are all I will use on my babies, it was just yesterday I was showing a mom with a ten week old how to put on her Moby Wrap that would be ideal for comfort for both mom and baby."
mammainflipflops.com
---
Africa's Blog
9/29/13 - "Since we welcomed little Gradie into our lives we love "wearing" her :). She just loves it too, especially in her Moby Wrap. Just take a look at the pictures below, both Jeanna and I are wearing her in the Moby Wrap. She sleeps so easily while in the wrap because she is that comfortable and content."
africasblog.com
---
The Simple Moms
9/10/13 - "During the first year of life, wearing my baby has become almost second nature to getting dressed in the morning. Not exaggerating, I simply never leave home without my Moby Wrap. I wear him at home while I do dishes. I wear him while I'm our running errands. I wear him when he isn't feeling well and I wear him when he's content but just wants to be close.
And just in time for the most comfortable leg (weather wise, anyway) of the Major League Baseball Season, Moby Wrap has comes out with an official MLB line! I mean, how cool is this? Our favorite? The Tigers!"
thesimplemoms.com
---
Thrifty Nifty Mommy
3/17/13 - "When I received my carrier, I couldn't wait to try it out right away and had that opportunity when we went shopping the next day at Target. **Side note–moms, if you are tired of strangers putting their hands on or near your child's face, then wear them in a carrier when you go out. In my experience, people will keep their hands OFF of your child–were they belong–if they are being worn.** I found the Moby carrier very easy to put on and put my son Jacob (10 months) into."
thirftyniftymommy.com
---
Downside Up & Outside In
3/16/13 - " The Moby GO is a wonderful, ultra lightweight, soft structured carrier that makes wearing bigger babies easier than ever. We tried out the Moby GO with our nearly five year old daughter, who is too tall for many other carriers at her age but still wants to be carried. A lot. And I must say, I tend to use carriers as much or more now than I did when she was a baby. A nearly five year old who predictably tires out on walks, hikes, and grocery shopping trips is, in my opinion, so much easier to wear than carry."
downsideupandoutsidein.com
---
Change-Diapers.com
2/28/13 - "The Moby Go carrier is designed for babies from 15-45 pounds, who have outgrown stretchy wraps. At first glance it looks very similar to other soft structured carriers (SSCs), but two things stand out to me. One, the straps criss cross in the back vs. having a back buckle and two, the price; it retails for just $79.99. However, unlike many other SSCs, this can only be used for a front carry (facing in), not a back carry. I'm excited that the features and price will help it appeal to people who may otherwise purchase a "crotch dangler," and who may not need/want to do a back carry."
change-diapers.com
---
Zerberts
2/15/13 - "Moby has recently released a new carrier called the Moby GO! This is a soft structured carrier (aka SSC or buckle carrier) and is specifically designed for older babies that may not be as comfortable to wear in a Moby Wrap anymore. I think this is awesome because many people use Moby wraps and some of them have no idea the world of options available to continue to comfortably wear as their child grows. The Moby GO is likely to reach a wider audience and keep more babies being worn for longer, which I think is an AWESOME thing for everyone!!!"
shopzerberts.blogspot.com
---
Viva Veltoro
1/22/13 - "A few weeks ago I told you how much I love my Moby Wrap. When I heard that Moby Wrap Inc. created a soft structured carrier I couldn't wait to try it! The Moby GO was created to accommodate babies and toddlers ranging from 15-45 pounds. As with the Moby Wrap that we know and love, the Moby GO offers ergonomically correct positioning for both wearer and baby. You can still keep your growing baby close while being on the GO!"
vivaveltoro.com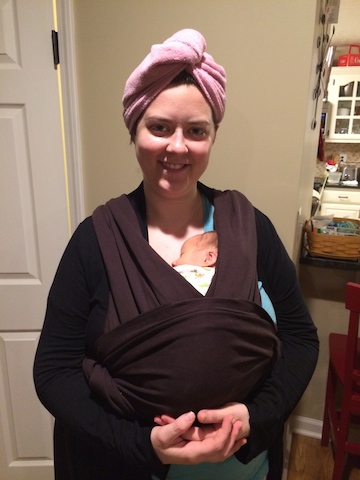 Do you blog?
Currently our reviews on hold, if you would like to submit your info we will be glad to talk with you as soon as reviews start rolling again. Thank you!
> submit your blog info