The perfect combination of elegance, simplicity, and style
Wear with Elegance
Both lovely and lightweight, the Moby Ring Sling's intuitive design offers a fashionable, functional baby carrying option for all parents and caregivers. It also offers both front and hip-carrying options, allowing the wearer to change positions and maintain comfort as baby grows.
Ways to wear your ring sling
FROM NEWBORN FRONT CARRY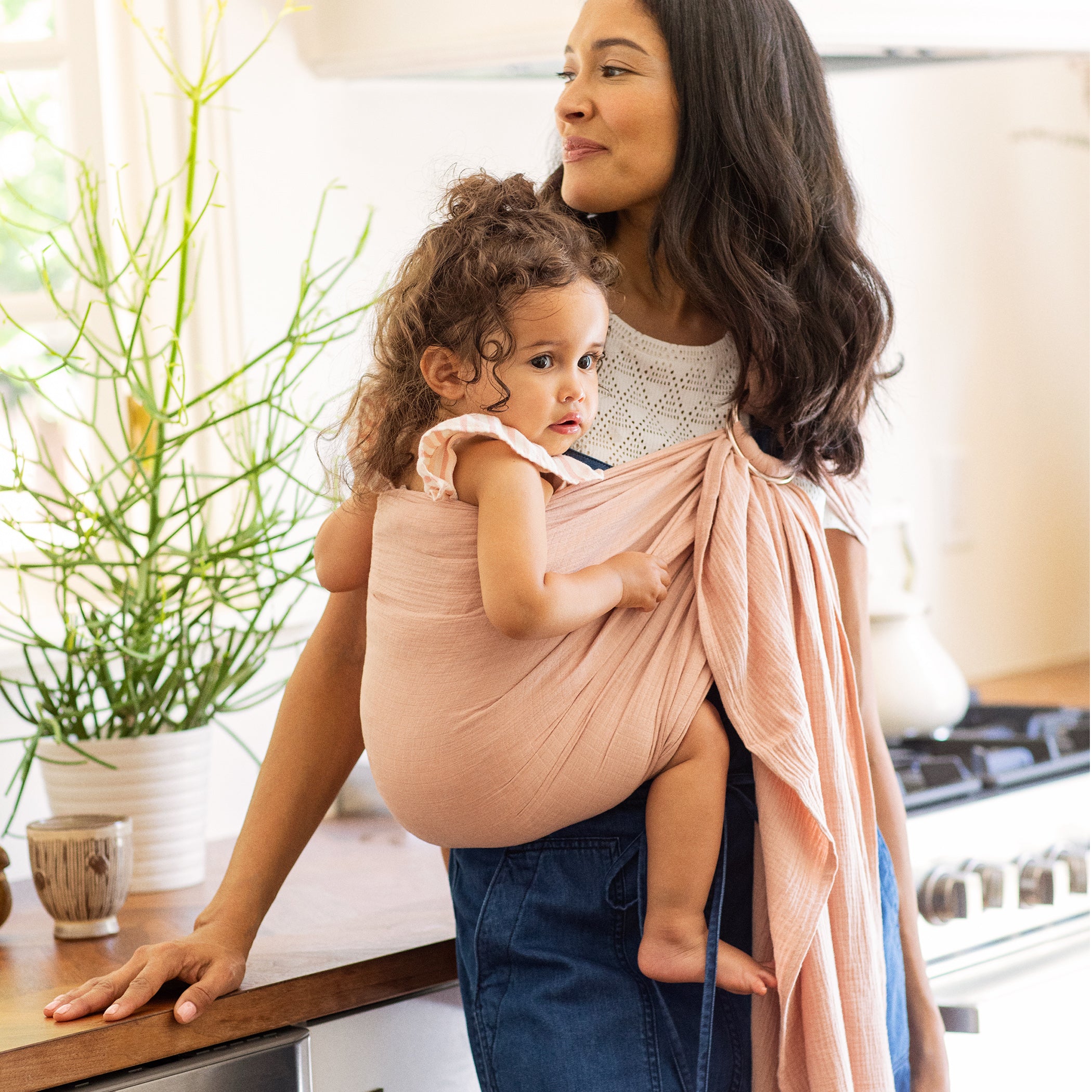 TO TODDLER HIP CARRY
Our Ultra Luxe Fabric
Elegant and effortless, the MOBY Ring Sling is now offered in a breezy, breathable double gauze cotton textile. Crafted from a high-quality, woven cotton fabric, the sling provides an approachable, easy-to-wear alternative to the classic wrap design.
How to use your Ring Sling
★★★★★ Reviews for Moby Ring Slings
★★★★★

"This is a great baby carrier. It has been so easy to use and to get on quickly.
I love the color of the carrier as it matches almost everything. My baby seems very comfortable in it and I can have 2 hands to do the many things I need to do."

Heidiah

Orem, UT
★★★★★

"So I've been looking for a good baby carrier I have tried so many different kinds that either were to tight or hurts my back so I bought the moby wrap ring sling baby carrier it's really comfortable and easy to use I bought one for my sister to have also since she is having my nephew in 2 months"

Amanda19

Brooklyn, NY
★★★★★

"I love this ring sling! It's easy to use and adjust! The color goes great with anything. It's easy to put my son in the sling when he gets tired of walking. It distribute his weight nicely. I spread the sling over my shoulder to help distribute the weight even more. I could wear this all day if needed. It's not too bulky and could fit under a jacket unnoticed if needed when not in use but needed. It's small enough you could pack it in a diaper bag as well. Easy to clean and dry. LOVE it!"

Nikki1013

Grant Park, IL